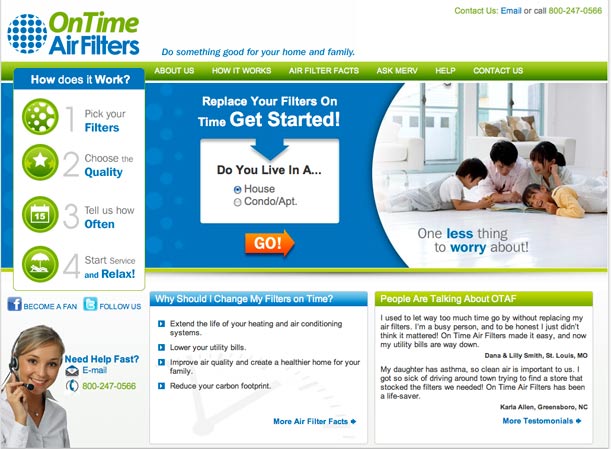 On Time Air Filters
Never forget to replace your air filters with this easy to use web site. On Time Air Filters' web site let's you set up a schedule to replenish your filters, when you need them.
What we did:
Front End Logic, Back End Features, CMS, E-Commerce
Additional Screens
If you are like me, you typically forget to replace the air filters in your house. I always hoped for an easy way to have this process somewhat automated. That is why we are proud to present On Time Air Filters. Once you tell On Time Air Filters about your house or condo, it will do the rest.
Setting this up is as easy as one, two and three. You go to the Air Filter Wizard and just answer three simple questions:
Pick Your Air Filter
Choose the Quality of the Air Filter
Specify How Often You Want It
Then you are done - On Time Air Filters will deliver the filters to your home or office on a set schedule. You are billed every time an air filter is delivered to your home. You can always change the frequency, quality or number of filters, at any time.
Don't know what to order? Use the air filter facts. Still unsure? Then ask MERV, the air filter specialist via email or on Twitter or Facebook.
For more about On Time Air Filters, visit www.ontimeairfilters.com.
For full disclosure, RustyBrick's owners have an equity stake in this business.
Tweet