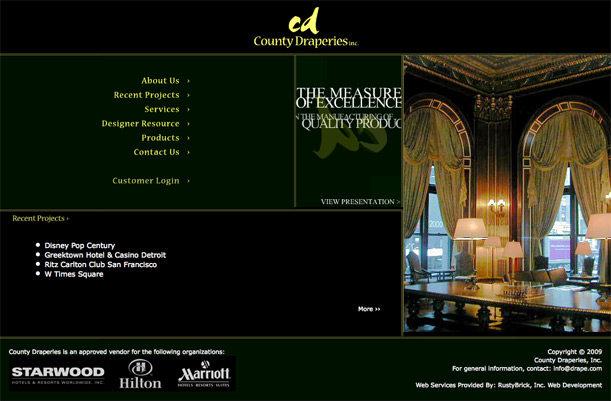 Drape.com
Country Draperies offers drapery at the wholesale level. Classic design with order tracking system.
What we did:
Design, Database, Custom App
There seems to be nothing extraordinary from the looks of County Draperies's Web site,
www.drape.com
. However, drape.com's Web site catalog engine is highly interactive and unique. County Draperies selected RustyBrick to build its Web site due to our extensive knowledge and advanced skills with Web technologies. County Draperies sells custom drapery, bedding, curtains and related products to retailers and the hospitality industry. Due to the nature of the products Country Draperies manufacturers, the Web site needed to be built with a level of flexibility that is atypical to most
e-commerce sites
. Web site visitors can browse the drape.com catalog and then pick custom patterns and fabrics for that product. The patterns and fabrics are displayed dynamically within the product fabric area, enabling the buyer to get a good idea of what they can purchase before it is custom built for them.
The site also features an elegant flash demonstration of some of County Draperies work, background and processes. The site is also fully managed through a
content management solution
. Drape.com is equipped with a
CRM (customer relationship management) toolset
that enables County Draperies to keep in contact with customers and enables customers to stay on top of the latest information about their custom orders. RustyBrick is proud to have been selected to build drape.com.
For more information on County Draperies, please visit
http://www.drape.com/
Tweet