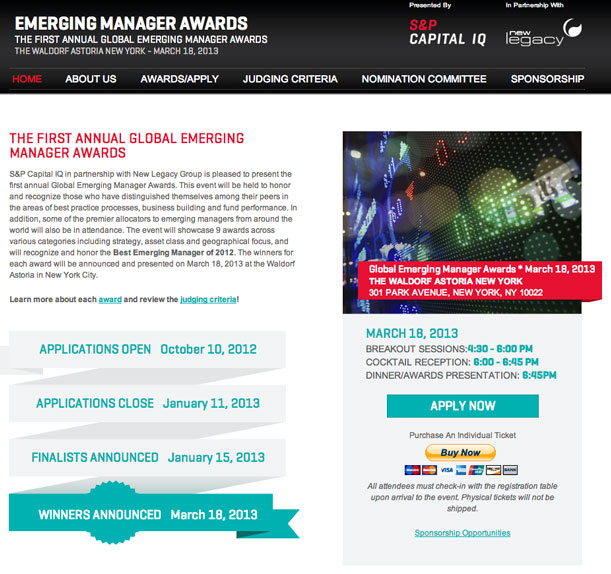 Emerging Managers
The Global Emerging Manager Awards was designed for S&P Capital IQ and New Legacy Group for the first annual Emerging Manager Awards.
What we did:
Design, Images, Usability & Deployment
Additional Screens
S&P Capital IQ in partnership with New Legacy Group contracted RustyBrick to design an awards portal for the first annual Global Emerging Manager Awards.
The event will be held to honor and recognize those who have distinguished themselves among their peers in the areas of best practice processes, business building and fund performance. In addition, some of the premier allocators to emerging managers from around the world will also be in attendance.
The site features a clean and easy to use design with content about the event, the available awards, how to apply, the judging criteria, the nomination committee and sponsorship opportunities.
The award is the brain child of S&P Capital IQ and New Legacy Group and it takes place in March at The Waldorf Astoria in New York City.
Visit the site at emergingmanagerawards.com.
ABOUT S&P CAPITAL IQ:
S&P Capital IQ, a brand of the McGraw-Hill Companies (NYSE:MHP), is a leading provider of multi-asset class data, research and analytics to institutional investors, investment advisors and wealth managers around the world. We provide a broad suite of capabilities designed to help track performance, generate alpha, identify new trading and investment ideas, and perform risk analysis and mitigation strategies. Through leading desktop solutions such as the S&P Capital IQ platform, Global Credit Portal and MarketScope Advisor desktops; enterprise solutions such as S&P Securities Evaluations, Global Data Solutions, and Compustat; and research offerings, including Leveraged Commentary & Data, Global Market Intelligence, and company and fund research, S&P Capital IQ sharpens financial intelligence into the wisdom today's investors need. For more information about S&P MMD, please visit www.moneymarketdirectories.com. For more information about S&P Capital IQ, please visit www.spcapitaliq.com.
ABOUT NEW LEGACY GROUP:
New Legacy Group, LLC provides sophisticated and unbiased global investment management products and services to families of substantial wealth, endowments, foundations, pension funds and other institutional investors that seek superior risk-adjusted returns. For more information, please visit www.newlegacy.com.
Tweet