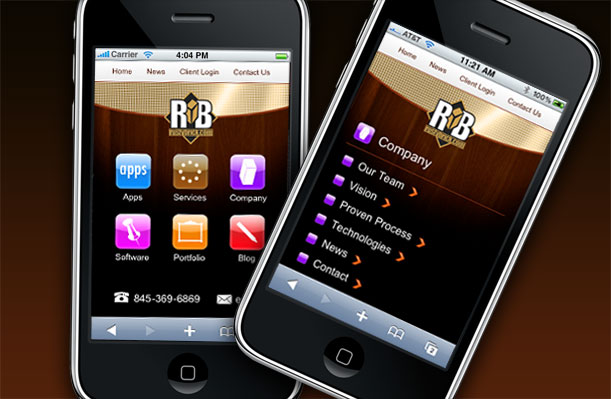 RustyBrick Mobile
This is how this site renders on the iPhone, Palm Pre, Google Android phones and many other mobile devices.
What we did:
Design, Branding, Coding, Mobile
Additional Screens
I am very excited to announce that after nine years without updating the look of rustybrick.com, we have finally totally revamped our design. It was a long time coming and the day has finally come.
Why now? A few reasons, the most obvious was the old design was, well - very old. But more importantly, our business has expanded and our navigation needed to support that. We added a new "software" section to feature our iPhone Apps, our web based software that we sell direct and other applications we sell direct. Our core business is still on the consulting and service side, but we do sell software directly.
Also, we needed to revamp our site to support mobile devices. In fact, a ton of our traffic comes from iPhones, due to the popularity of some of our iPhone apps. So we have a template designed specifically for iPhone and devices like it. So if you have an iPhone, do check out this site on it and you'll see, all the content you see on the desktop will be displayed in a new iPhone friendly design on your device.
Finally, we added a blog so that the RustyBrick'ers can reach out to the community more. Expect several blog posts from the team each week. The topics will vary from coding tips and techniques to design frustration and down to the culture at our offices. In fact, I hope to have the team blog about designing this site and all the challenges they had on the design and tech front.
I hope you like the new look for RustyBrick and we welcome feedback and bug reports at our blog!
Tweet