We've helped change how the Jewish world uses technology to improve and aid their daily Jewish lives with our iOS Apps and Android apps. Now we are taking it up a notch with Google Glass. Google Glass is Google's revolutionary concept behind a wearable computer. The RustyBrick team has come up with revolutionary ideas on how to leverage this device to fundamentally change the way Jews think about observing Judaism. How? Read on...
By pushing contextual, geographic-aware, and time sensitive data directly into your line of vision - JewGlass can help you remember things such as prayer time deadlines, where to find kosher eateries, what or what not to say while praying in synagogue and Shabbat start or end times. This is just the beginning, the practical applications are endless.
How do you get it? Well, first you need to get Google Glass (currently in beta and thus hard to get now) and then you need to click "Connect To Glass" at the top right section of this page and authorize the app. We are calling this project, Jewish Guide For Glass (formerly JewGlass).
Prayer Reminders Like Never Before
You are sitting in a meeting and you lose track of time. Jewish Guide For Glass sends you a polite reminder that sunset is creeping up on you right in the corner of your eye.
You are given the options of locating a nearby synagogue or...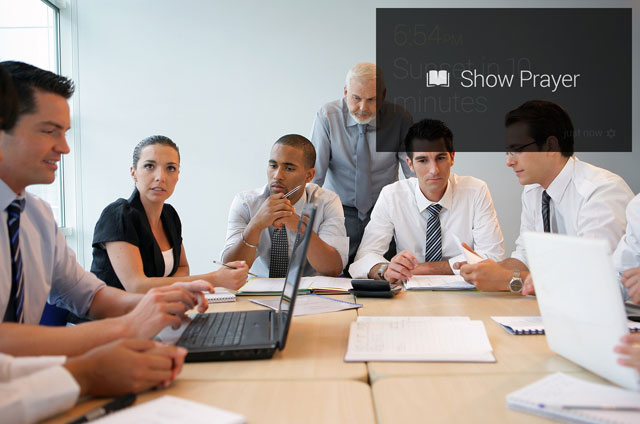 Jewish Guide For Glass can show the prayer you need to say at that time. Depending on the time of day, you will see morning services (Shacharis), afternoon services (Mincha) or evening services (Maariv). Oh, yes, the options of Nusach will be available and the text will be smart, only showing the relevant time-based prayers.
No prayer book (siddur) on hand? Don't have access to your hands? No problem, the prayer will show up discreetly in the corner of your eye.
Have time to run to a synagogue but not sure where to find one? Jewish Guide For Glass will show you options of nearby synagogues! In this case, Jewish Guide For Glass found 3 nearby synagogues within walking distance from your meeting.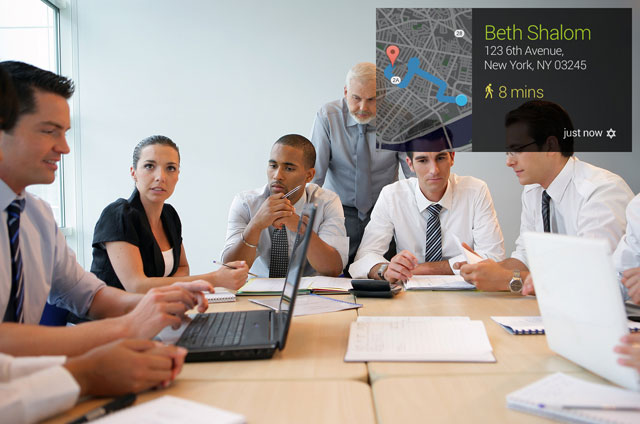 Jewish Guide For Glass will help you find a synagogue you like, tell you how long it will take you to get there and show a map for you to visualize where to find the synagogue.
Need more help? Call the synagogue from Google Glass.
Walking, driving or biking directions will take you directly to that synagogue.
As your are walking, Google Glass shows you how far away you are from your destination.
Prayer Advisor Tips
Jewish Guide For Glass detects you finally made it to synagogue and gives you quick tips.
The tips cover important prayer or learning facts for the day.
Shabbat Times Reminders
Jewish Guide For Glass can be configured to send you scheduled reminders of when Shabbat begins and ends and the Parsha of the week.
Hungry Yet? Find Kosher Restaurants
It's lunch time and Jewish Guide For Glass is here to make sure you don't skip a meal. Jewish Guide For Glass tells you there are several nearby kosher eateries.
Kosher Delight is around the corner!
Call in your order for delivery.
Or get directions for take out.
This is just a glimpse into the potential of wearing technology and how it can impact Jewish life. To try it out yourself, Connect To Glass or for more details, email us at glass@rustybrick.com.
Glass is a trademark of Google Inc.
Tweet