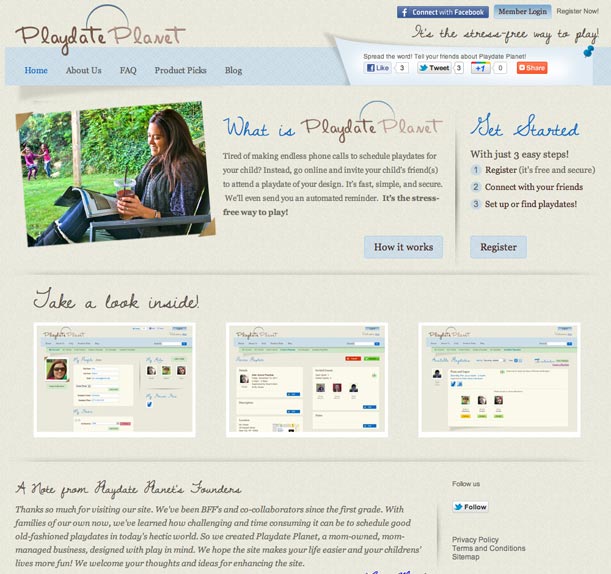 Playdate Planet
Making the process of scheduling, coordinating and remembering your child's play dates just that much easier. This site and application has the scheduling and social tools to create play dates, invite friends and coordinate times and locations.
What we did:
Design, Branding, CMS, Database, Social, Schedules
Additional Screens
Have kids? Then you know how managing your children's playdates can become a true hassle. Between figuring out which of your children's friends your kids want to play with, the location, the timing, risks (such as pools, allergies, etc) and then multiply it by the number of children you have - it can become stressful.
Then you set up several playdates and you have to remember which kids go where, when! It can be a full time job.
There is an easier way, a more efficient way - a "geekier" way as we at RustyBrick like to call it. It is the Playdate Planet way!
We designed and developed this site for parents by parents to help them manage the day to day hassle of playdate scheduling.
We made it social, integrated and easy to use. All you need to do is go online and invite your child's friend(s) to attend a playdate of your design. The system will do the rest, from reminders, friend invite notifications, and even manage the risks of allergies, animals, pools, and so on.
Read the truly inspiring story behind the conception of the Playdate Planet idea and sign up today at playdateplanet.com.
Tweet