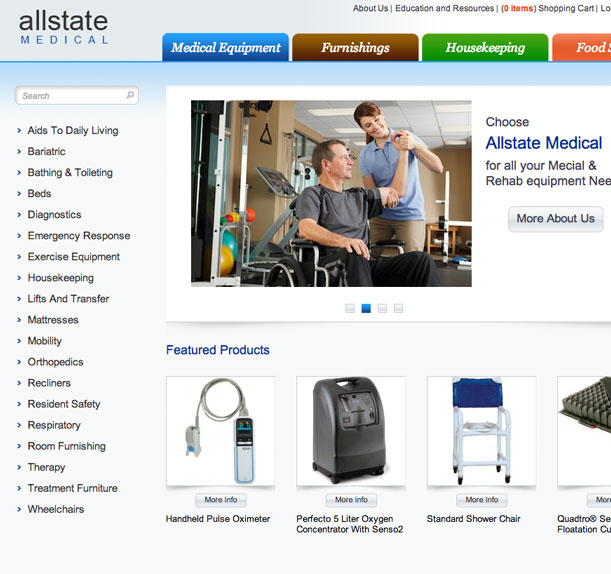 Allstate Medical
Allstate Medical, a supplier of medical equipment, web site that provides a wholesale login to order products and equipment.
What we did:
Design, CMS, Database, Import Conversion, E-Commerce
Additional Screens
Allstate Medical, a New York based long term care medical equipment distributor, contracted us to build out a web site where their customers can place orders for product.
The business-to-business web site was designed to allow Allstate Medical's customers to login via the wholesale login area, find product quickly and buy is quantity. The site has very advanced security for customers and administrators. It also was populated by importing data from their MAS 90, now known as Sage 100 ERP, accounting software.
Despite being a business to business web site, the site's public components are search engine friendly and almost consumer-like. Breaking the site down into product categories and utility makes it easy to find products in multiple ways. Plus, each business customer has their own tiered pricing, which pulls from the MAS 90/Sage 100 ERP accounting software.
About Allstate Medical:
Allstate Medical has been serving the Long Term Care market for over 15 years. From our humble beginnings working from a basement office we have steadily grown in becoming leaders & experts in the medical equipment field. Allstate Medical now serves hundreds of health care facilities nationwide.
For more details visit www.allstatemedical.com.
Tweet