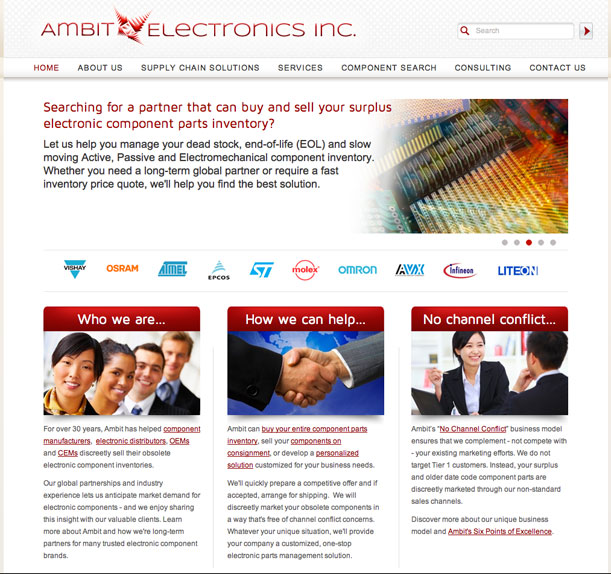 Ambit Electronics
Dead stock? Surplus electronic parts? What are you going to do with all of it? Let Ambit Electronics sell it on your behalf. Check out Ambit's beautifully designed web site, with a custom CMS system.
What we did:
Design, CMS, Forms, Secure Applications
Additional Screens
Ambit Electronics hired RustyBrick to overhaul the web site in order to convey the true essence and culture of the 30 plus year old company.
The new design features high-end graphics, easy to understand navigation and much more. We worked closely with Ambit's team to bring out the company's personality in the new design.
From their new logo and web site design to a custom built content management system and lead capture forms - the site has been completely revamped.
Don't get me wrong, Ambit is still the same great company helping large companies with "dead stock" and surplus electronics, sell off those assets for a pretty good penny. But the web site now helps convey the greatness of the company to the public.
About Ambit:
Since 1979, Ambit Electronics has helped OEM's, CEM's, component manufacturers and distributors discreetly sell their surplus components. Ambit also assists companies seeking to purchase quality components.
For more information on Ambit Electronics, see their web site at www.ambitelectronics.com.
Tweet