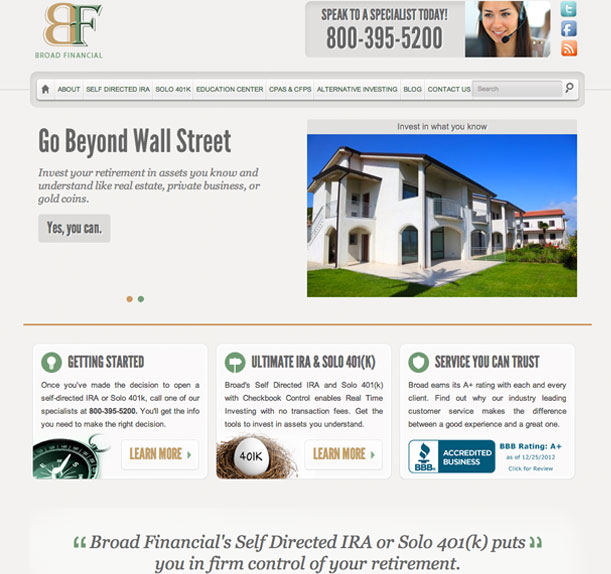 Broad Financial
Broad Financial's new web site is designed to be responsive to their customer's needs. Responsive mobile design and search engine friendly design.
What we did:
Design, CMS, Database, Mobile, Usability
Additional Screens
Broad Financial, a New York based self directed IRA or solo 401(k) company, hired RustyBrick to design and deploy their new web site.
The web site has a clean and modern look, but is incredibly flexible both on the front facing features and the backend features. The site is incredibly search engine friendly but at the same time is mobile friendly. It was designed using responsive web design techniques in order to render nicely on both desktops and smartphone devices.
The backend content management system is incredibly flexible, allowing the full manipulation of navigation, content blocks, images and much more. The beauty is in the design and implementation of the technology, in that there is one database to house the content and the content that is fed to the desktop user, mobile user and search engine spider is exactly the same.
Conversion and usability optimization was a top priority for this site, as with most of our sites.
Try the site on your desktop and smartphone at broadfinancial.com.
Tweet