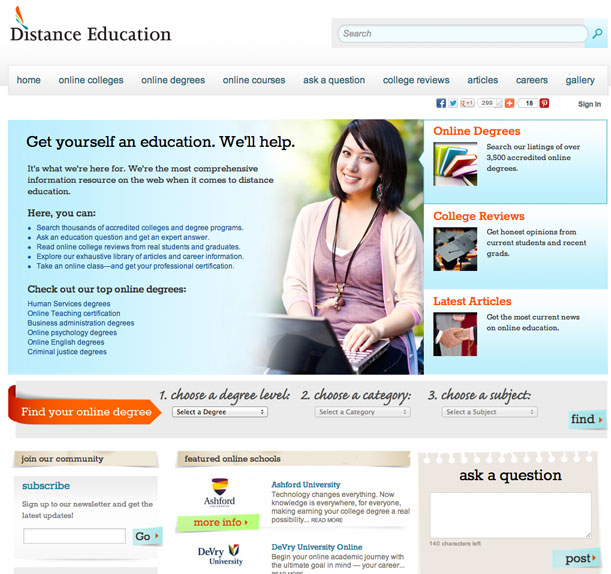 Distance Education
Distance-Education.org offers tremendous help on finding the perfect online university for your needs. With articles, lists, Q&A sections, galleries and more...
What we did:
Design, Branding, CMS, Database, Social, Members
Additional Screens
Distance Education, a long term RustyBrick client, hired us again to redesign and revamp some of the functionality on the web site.
The new design is cleaner, easier to navigation and brighter. Right from the home page you can quickly find methods to navigate and browse the various online degrees, or reviews of universities and or read some of the latest news and articles on online education.
You can search and browse through thousands of accredited colleges and degrees. You can use the ask a question section to get responses on education from an expert. You can read online reviews of colleges from real students and graduates. You can also dive into the huge library of content on colleges and careers in their article database. Plus add in the new section for careers and military programs, and this may be the most robust online education site on the internet.
The site also features a login area where you can share reviews, post articles, ask or answer questions and much more.
About Distance Education:
Distance-Education.org offers detailed information on over 3,500 degree programs, more than 250 online schools, and 1,800 online courses. We feature hundreds of online college reviews from past and current students, a Q&A section manned by experts in the field, and some of the best online commentary and advice on the web from informed specialists.
Distance-Education.org has one of the largest libraries of online educational content exploring the world of higher learning in online education. From in-depth articles about the current state of distance education, taking classes online, exploring a new career, regulations and law in education, trends, and student help guides you can be sure we will cover it!
Visit them online at www.distance-education.org
Tweet