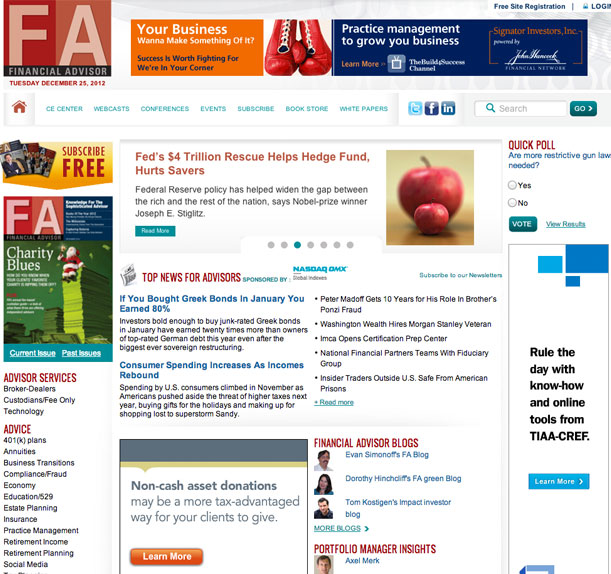 FA Mag
Financial Advisor custom news and content site with CE, webcasts, conferences and much more.
What we did:
Design, CMS, Database, Caching, Author Management, Migration
Additional Screens
Financial Advisor Magazine hired RustyBrick to migrate them off an open source Joomla system onto their own custom build content management system. The new platform gives them all the flexibility they have wished for under their own backend portal.
The print magazine, which has circulation of over 90,000 readers each month, needed a custom solution for their growing readership. The new site controls a lot of the legacy duplicate URLs that may cause issues for search engines, by ensuring each article, no matter the navigation path, has one URL. The legacy URLs are all 301 permanently redirected to the new structure.
The site features more than just great content. Other features include:
Continuing Education Center with online education and testing
Online Webcasts
Conference marketing and registration
Event promotion and workshops
Online bookstore
White papers library
Online polling
Mobile site
Advanced ad management
Social media integration
and more much
Visit the site at fa-mag.com.
About Financial Advisor:
Reaching more than 90,000 qualified readers each month, Financial Advisor delivers essential market information and strategies that advisors need to succeed in their increasingly complex environment. FA focuses on sophisticated planning and investment strategies to help advisors better serve their affluent clients, as well as practice management ideas to help advisors build their firms. FA goes in-depth to challenge traditional planning wisdom by introducing readers to new approaches to help them better counsel clients. To achieve these goals, FA continuously seeks to bring together the best team of editors and contributing writers to provide the most compelling publication for the top decision-makers in the financial advisory field.
Tweet