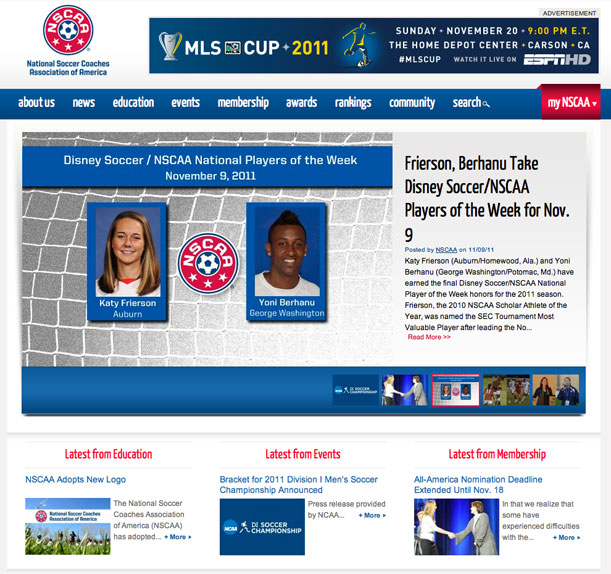 NSCAA
NSCAA.com is a complete revamp, from the core branding to the back office implementation. It has a new look, communication features, conference registration, educational info, member login...
What we did:
Design, Branding, CMS, Database, Social, Members
Additional Screens
NSCAA has announced their new web site - a new home that focuses on members by providing information and resources to their membership.
The new site's focus and brand messaging, which RustyBrick helped create, is around "Learn. Participate. Belong."
Learn. NSCAA.com is your link to coaching education courses, information on how to host your own course and other educational resources.
Participate. NSCAA.com is your destination for information on the Convention, symposiums, showcase tournaments, tours and new events being developed on the soccer calendar.
Belong. NSCAA.com is your site for information, resources and the many benefits and services offered to you as a member. Your exclusive online member access begins with...
The features are almost endless, starting with a custom design and branding build out on the frontend of the site to a custom content management system and complete integration into their membership database.
Some of the features include but (trust me) are not limited to:
Pay your annual dues, register for the Convention or a coaching course and more.
Nominate and vote for awards to honor your team, players or coaching peers.
Share ideas with 30,000 members and build your online community.
Access to many other benefits such as the online version of Soccer Journal.
Check out the NSCAA web site at www.nscaa.com.
About NSCAA:
Based in Kansas City, Kan., the NSCAA is the largest soccer coaches' organization in the world.
Since its founding in 1941, the National Soccer Coaches Association of America has grown to include more than 30,000 members who coach both genders at all levels of the sport. In addition to a national rankings program for colleges and high schools, NSCAA offers an extensive recognition program that presents nearly 10,000 individual awards every year. The NSCAA fulfills its mission of coaching education through a nationwide program of clinics and week-long courses, teaching more than 6,000 soccer coaches each year.
Tweet