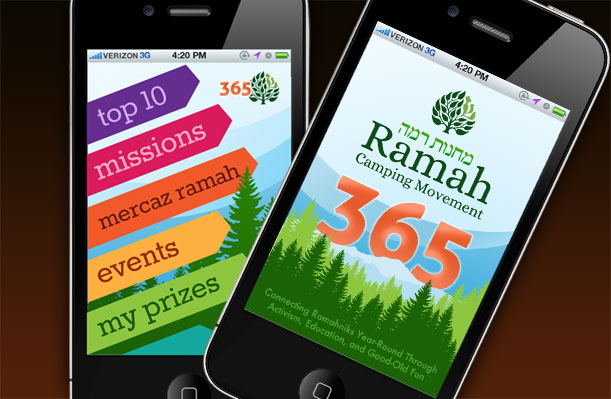 Ramah 365 App
Designed for iOS & Android, helps keep Ramah Camp alumni connected. The app has fun & exciting missions that let you win prizes & interact with Ramah staff members & alumni across the globe.
What we did:
Design, iOS, Android, Web Services & More
Additional Screens
Suffern, New York - National Ramah Commission hired RustyBrick to build a mobile app to help Camp Ramah alumni stay connected where ever they are.
The Ramah365 app does just that, by allowing Ramahniks (Ramah alumni) from all over the world download the app on their iOS (iPhone, iPod Touch, iPad) or Android device and keep up with the camp and their friends. The app has fun and exciting mobile missions where you can win prizes, and interact with Ramah staff members and alumni across the globe.
Behind the scenes, the app is powered by a web service and online content management system that let's the National Ramah Commission manage and maintain the app's content and alumni database. On the front end, the app works seamlessly on iOS and Android devices.
You can download the app on iTunes (iOS) or Google Play (Android).
About Ramah:
Ramah is the camping arm of Conservative Judaism. With eight overnight camps, four day camps and Ramah Programs in Israel, Ramah impacts more than 9,000 campers and staff every summer. A summer at Ramah is spent immersed in Jewish living - highlighted by dynamic and innovative programming. Traditional camp and outdoor activities, including swimming, sports, dance and art, are enhanced by Ramah's dedication to excellence in informal Jewish education. Combining a love for camping with meaningful Jewish experiences, Ramah instills in its campers and staff a love of Judaism, the Jewish people, Israel and the outdoors.
About RustyBrick:
RustyBrick
is a New York Web service firm specializing in customized online technology that helps companies decrease costs and increase sales. RustyBrick's Web services include; Web page design, Web development, logo design, e-commerce, mobile Web development, iPhone development, search engine optimization and more. Since 1994, RustyBrick has been creating Web software for businesses and organizations of all kinds.
RustyBrick designs premier iPhone & mobile applications for the Jewish market. They also work with clients such as MTV, Harper HarperCollins, Comedy Central, Harvard University and many more. RustyBrick also designed the most popular Siddur for the iPhone at http://rustybrick.com/siddur and has some of the most popular Jewish apps at http://rustybrick.com/iphone.
Tweet